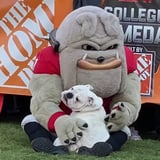 Hairy Dawg found a friend! Follow Blane Marable Photography for more Game Day photos.

Posted by Blane Marable Photography on Saturday, September 21, 2019
Want to see the face of pure joy? Then kindly direct your attention to this video of Kirby the Bulldog pup meeting his giant look-alike, University of Georgia mascot Hairy Dawg. In a now-viral clip captured by photographer Blane Marable and shared on Facebook, Kirby is seen cuddling the furry, costumed human on the sidelines of the Georgia football game against Notre Dame. Kirby could hardly contain his excitement while attempting to lick under the mascot's mask and playfully biting its arms before lying back and thoroughly enjoying a belly rub.
Blane's video of Kirby and Hairy Dawg's midgame hangout session has amassed more than four million views in just a few days, thus proving there's nothing sweeter than two good boys being, well, the goodest boys. My plans for the week, you ask? Watching their absurdly adorable interaction on a loop.